In Memory
Ellen McGuinness (Gaston)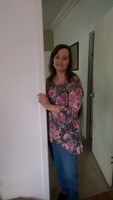 Ellen Gaston, 56, of Rusk,TX passed away February 12, 2018 in her home. She was born September 24, 1961 in Bayshore, Long Island, N.Y. to EllenJean McGuinness and the late John "Jack" McGuinness. She graduated from Rider High School and received her associates degree in criminal justice from Vernon Regional Junior College. She worked for the state of Texas for many years.

Her memorial service is at Sacred Heart Catholic Church in Wichita Falls,TX on February 24, 2018 at 12:00p.m.

She is survived by her mother, EllenJean McGuinness of Lufkin,TX. Daughter and son-in-law, Heidi and Ryan O'Malley of Yukon,OK. Grandchildren Macie and Lennox O'Malley of Yukon,OK. Brother and Sister-in-law, John and Cindy Mcguinness of Rusk,TX. Nephew, Daniel McGuinness of Tyler,TX and his daughter Alexis McGuinness of Wichita Falls,TX. Nephew, Chad Jarrett of Tyler,TX. Second cousin, Jaelynn June of Lufkin,TX, her beloved dog Lilymae, and numerous other relatives and friends. Her memory will live on in their hearts.
http://www.wallacethompson.com/obituaries/Ellen-Gaston/#!/Obituary